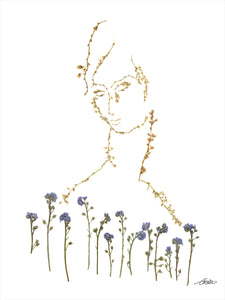 Modigliani was an Italian Artist who worked mainly in France during the time of expressionism. He is most notably recognized for his portraits painted with elongated features- including the neck and nose.
The subjects in his portraits are often portrayed with hazy eyes; he would either leave the almond-shaped outline of their eyes empty or colour them in entirely. For Modigliani, the absent eyes in many of his portraits suggested that he didn't know the subject personally.
With the intention of painting only what he truly saw, he would only paint the eyes of those he truly saw.
For Modigliani, the eyes were a gateway to ones soul, which is expressed in his quote: "when I know your soul, I will paint your eyes"
The woman in this piece is inspired by Modigliani's style. Her features are elongated and her stare is empty and mysterious.
Though I was very happy with how well the silver-lace vines formed a Modigliani portrait, it was important to me that this piece to stay true to my medium (mother nature). For this reason the woman is blossoming from a garden of forget-me-nots flowers. 

You will receive a Giclée print of my original made entirely of pressed wildflowers and botanicals. Giclée prints are of the highest quality and do an excellent job capturing the colour and texture of the flowers.


All prints are made to order. Once you place your order please allow for 2 business days for printing.