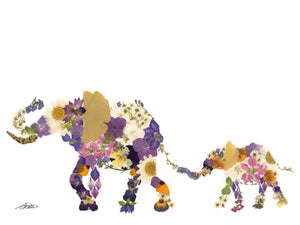 Mama Elephants might just be the best mothers in the entire animal kingdom. For starters, they endure nearly two years of pregnancy followed by another 2 years of nursing. Mother and baby elephants develop an extremely strong bond with one another; in fact, females will often stay with their mothers for their entire life. 

This colourful print captures the loving bond between mother and child. 
Furthermore, insofar as I was working on a relatively small canvas (9x12 inches) to portray two enormous creatures, it was important to me that I capture their large presence. After all, it is their status as gentle giants that make elephants so intriguing. 
In this piece, the golden ginkgo leaves successfully captures the size and shape of elephant's iconic flappy ears. 
You will receive a Giclée print of my original made entirely of pressed wildflowers and botanicals. Giclée prints are of the highest quality and do an excellent job capturing the colour and texture of the flowers.  
All prints are made to order. Once you place your order please allow for 2 business days for printing.