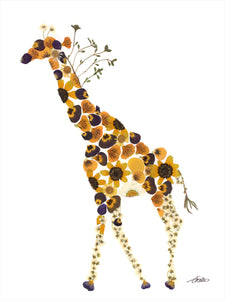 The giraffe in the peice is made mostly of pressed pansy petals to capture her spots, though she also features a few black eyed susan blooms...just to keep things flowery! Her legs are made of individually pressed bridal wreath flowers, and her tail of pressed grasses. 
She grows a wild and untamed mane from her neck made of pressed thyme. This addition is intended to reflect her connection with mother nature.
She is of nature.. we all are. 
You will receive a Giclée print of my original made entirely of pressed wildflowers and botanicals. Giclée prints are of the highest quality and do an excellent job capturing the colour and texture of the flowers.
All prints are made to order. Once you place your order please allow for 2 business days for printing.