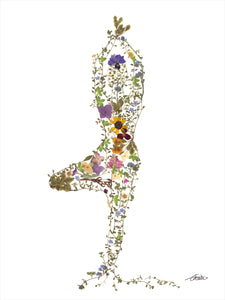 A yogi rooted in the earth extends her branches up towards the sky in tree pose- a yoga pose to promote balance and strength.

 She grows a garden of beautiful wildflowers on her bark. These blooms reflect the garden she has nurtured and grown through her yoga practice.
Her steady stance allows the 7 chakras to come into perfect balance. Each Chakra is associated with a particular colour which has been captured in this piece with the use of carefully selected flowers. 
Notice the Black Eyed Susan flower sitting below her heart centre. Accordinng to Vedic tradition, this is where the solar plexus chakra exists. This chakra represents ones will, self assurance, personal identity, independence, and taking responsibility & control of ones own life. Like the Black Eyed Susan, the colour associated with this chakra is yellow. 


You will receive a Giclée print of my original made entirely of pressed wildflowers and botanicals. Giclée prints are of the highest quality and do an excellent job capturing the colour and texture of the flowers.  


All prints are made to order. Once you place your order please allow for 2 business days for printing.